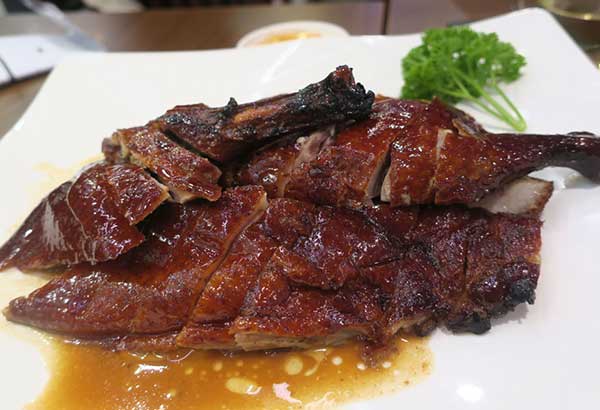 Last July, I flew to Singapore to meet a friend, Dorothy Goh. Dot was one of my partners in crime for food and alcoholic adventures in New York. She is one of my best friends from culinary school and when she told me that she was going back home to Singapore during her summer break, we immediately made plans to meet up.
It was my first time to see Singapore through the eyes of locals. If I were with family, we would normally hang around Orchard Road all day and eat at our favorite touristy spots like Boon Tong Kee, Wee Nam Kee, Jumbo Seafood and the like. This trip, Dot made sure that she took me to places I wouldn't normally go to. She asked me if there was anything I wanted to do or see in Singapore. I told her I did most of the touristy stuff already and I really just came to hang out with her. Her response was, "Looks like we'll be eating all day then." At that point, I knew I was in for a treat. Dot had all our meals planned out already.
I arrived in Singapore at 5:30 p.m. on a Saturday. That same evening, Dot drove me and a few friends to JB Johor in Malaysia just to have dinner. They say that a lot of locals drive all the way there because the food is much cheaper. We got there around 10 p.m. because of the immigration lines of Singapore and Malaysia. Dot wanted to take me to this restaurant with salted egg crabs, but there was an hour wait, even at 10 p.m. So we ended up at a Taiwanese porridge restaurant called Goh Zha Lang Taiwan Porridge. The porridge is meant to be eaten with side dishes of meats, veggies etc. We ordered braised pork in soya sauce, goh hiang roll, which is a spring roll with bean-curd skin, braised pork with preserved vegetables, two chai-poh omelets, fu yong omelet, fried kangkong belachan, bean curd on a hot plate with minced pork, sizzling beef, two orders of sweet sour pork, three orders of Taiwan fried rice, asam fish and fried sambal sotong, or squid. Although we were a group of five and ordered so much, we ended up only paying RM266 (approximately P3,150. I still can't believe that I was in three countries all in one day. That was pretty exciting!
The next day we had lunch at London Fat Duck, which is a Hong Kong-style restaurant and an up-and-coming chain in Singapore. London Fat Duck uses Irish ducks, which are famous for their quality and are called the "Wagyu of ducks." Other items on the menu feature Hong Kong comfort food: dim sum, wonton noodles and the like. Dot and I ended up ordering roast pork, BBQ pork and, of course, roast duck, which was definitely too much for both us but we ordered it anyway. London Fat Duck currently has three branches around Singapore: Scotts Square, Waterway Point and Vivo City.
We spent the rest of the day in Adventure Cove Waterpark in Sentosa. We were lucky that there was an available slot for the dolphin adventure on Dolphin Island. This permitted us to play and interact with dolphins. They did tricks for us and let us hug them and rub their bellies. Unfortunately we were not able to get a photo with the dolphins because they were selling them at SGD$ 60 per print.
For dinner, we went to JB Ah Meng in Geylang, where they specialize in white pepper crab for half the price, if not less than restaurants we normally go to. Of course, this was one of the dishes we ordered. We ordered two crabs and were automatically given one male and one female. I enjoyed the dinner so much that I was the only one eating in the end. I can't remember how many pieces of crab I had but I do know that I had more than my share. Since I was the guest from out of town, I was offered the best parts, too, pertaining to the claws. It was a glorious moment! Other memorable dishes we ordered were the salted egg prawns with corn kernels, san lou bee hoon, sambal kangkong and fish skin chips with pickled vegetables. The fish skin chips were the perfect appetizer. I know for a fact my mom would have loved this.
Lifestyle Feature – Travel ( Article MRec ), pagematch: 1, sectionmatch: 1
The next day, we had a late lunch in Din Tai Fung, a must every time I'm in Singapore but more because I wanted to try their new chili crab xiao long bao. It was good, but of course more expensive than the normal xiao long bao. But I prefer the real thing. My mom is right; the best part about eating crabs is picking out the meat from the shell.
For my last dinner in Singapore, Dot asked more friends to meet us at this restaurant called Keng Eng Kee. The restaurant is a very casual, open-air, almost street-side restaurant. Her friends had already pre-ordered by the time we arrived but everything was so good. My absolute favorite and the dish that you must go for would be the salted egg crabs. It's the creamiest and richest salted-egg dish that I've ever tried.  The sauce also had some curry leaves and chili, which added so much flavor, aroma and heat to the dish.  The sauce was so good that we were using the steamed mantou to scrape the sauce from our plates.
After dinner, we walked to a local market for some durian. I know I tried it when I was a kid because it was my lolo's favorite, but I do remember not liking it. I figured, my taste has changed, and maybe it's about time I try it again. So I did and I actually liked it.  We even had table service as the guy from the fruit stand stood beside our table and opened the durian for us. He also provided us with an empty crate where we could dispose of the shells and seeds.
For my last meal in Singapore, Dot took me to Yoyogi, which is located at The Grandstand. It is set to move to a location along Amoy St. next year. Yoyogi is a Japanese omakase restaurant that serves fresh items from Japan. They fly in fish and various produce such as rice and organic eggs from Japan five times a week. The omakase menu will, of course, change under the chef's discretion. One of the signature and most memorable dishes of this meal was the Ohmi beef bowl. Ohmi beef is one of the top three most popular Wagyu brands. The slices of beef were lightly seared and carefully arranged over Hokkaido rice, topped with black truffle shavings and drizzled with an organic egg yolk. I also enjoyed the Hokkaido scallops with foie gras, glazed with a soy, mirin and sake sauce and topped with radish shavings.
This trip has definitely given me a new set of eyes, as well as taste buds for Singaporean food. I feel like I gained so much appreciation for Singaporean cuisine. Eating with the locals can definitely offer a different experience.
* * *
Send email to quichethecook.ph@gmail.com or follow me for more photos and videos on Instagram @quichethecookph.
Let's block ads! (Why?)